Toyota Robot Played Basketball At The Olympics, Now Learning To Dribble
[Click here to view the video in this article] Image via Toyota   Fresh off the 2020 Tokyo Olympics, Toyota's AI basketball-playing robot, 'CUE', is proving not just to be a one-trick-droid as it learns to dribble on the court.  CUE, a seven-foot, 204-pound robot, was voluntarily created in 2017 by employees at Toyota as part of a project. Since its inception, the android has undergone multiple phases of redesign and upgrades. And with each new upgrade, it has jumped back on the court with the ability to do more and more each time.   After debuting for Alvark Tokyo in 2018, CUE broke records by performing 2,020 perfect shots for the Olympics, and even appeared in the games during half-time, where it made its half-court long shot.    However, CUE is now determined to be the master of all—it is now being taught to dribble zig-zag.   To begin with, the robot has been able to play the sport thanks to a sensor attached to its chest to determine the angle and power needed for each shot. Most of the time, it relies on a stand to hold it up, but with the second version, CUE2, it learned to stand on its own two feet.  Axes were introduced to its hands to allow it to move more like a human, giving it reflexes to adjust the ball when it changes position with every bounce.   Humans can subconsciously make up for the air pressure and court conditions, but robots lack this intuition. The AI was thus given a model that allowed it to read each movement and adapt accordingly.  The team also placed cameras at its feet to help judge the distance between the ball and itself better. Outside of this, the researchers also have to figure out a way for it to move at double its current speed. And with a deadline of December 24, when the latest version of the AI, CUE6, is meant to play in an Alvark Tokyo game, the engineers don't have very long to figure it out.  However, with all the advancements they have made with the basketball-playing robot, there is no doubt they'll pull off a buzzer-beater.    [via CNN and Toyota Times, cover image via Toyota]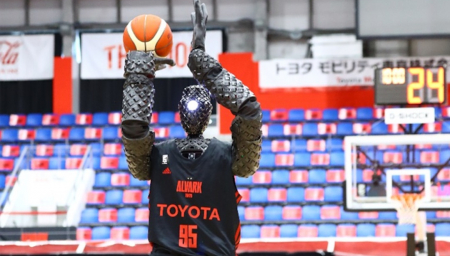 [Click here to view the video in this article]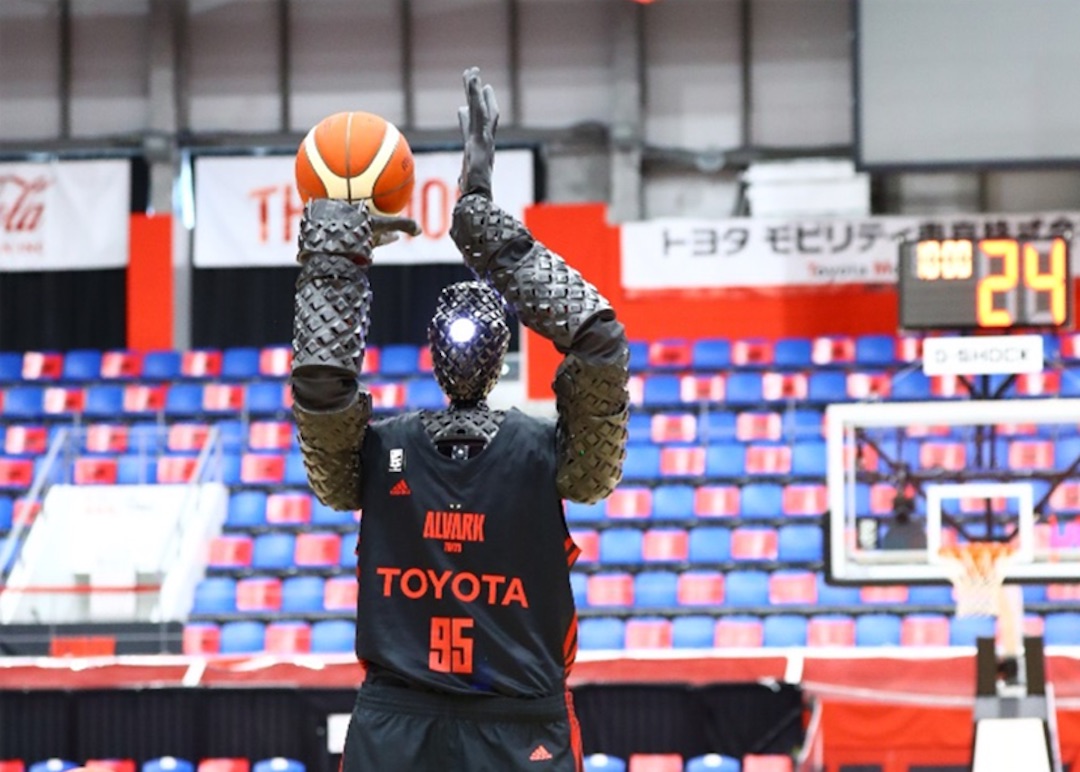 Image via Toyota
Fresh off the 2020 Tokyo Olympics, Toyota's AI basketball-playing robot, 'CUE', is proving not just to be a one-trick-droid as it learns to dribble on the court. 
 
CUE, a seven-foot, 204-pound robot, was voluntarily created in 2017 by employees at Toyota as part of a project.
 
Since its inception, the android has undergone multiple phases of redesign and upgrades. And with each new upgrade, it has jumped back on the court with the ability to do more and more each time.
After debuting for Alvark Tokyo in 2018, CUE broke records by performing 2,020 perfect shots for the Olympics, and even appeared in the games during half-time, where it made its half-court long shot.

 
However, CUE is now determined to be the master of all—it is now being taught to dribble zig-zag.
To begin with, the robot has been able to play the sport thanks to a sensor attached to its chest to determine the angle and power needed for each shot. Most of the time, it relies on a stand to hold it up, but with the second version, CUE2, it learned to stand on its own two feet. 
 
Axes were introduced to its hands to allow it to move more like a human, giving it reflexes to adjust the ball when it changes position with every bounce.
Humans can subconsciously make up for the air pressure and court conditions, but robots lack this intuition. The AI was thus given a model that allowed it to read each movement and adapt accordingly. 
 
The team also placed cameras at its feet to help judge the distance between the ball and itself better.
 
Outside of this, the researchers also have to figure out a way for it to move at double its current speed. And with a deadline of December 24, when the latest version of the AI, CUE6, is meant to play in an Alvark Tokyo game, the engineers don't have very long to figure it out. 
 
However, with all the advancements they have made with the basketball-playing robot, there is no doubt they'll pull off a buzzer-beater. 
 
 
 
[via CNN and Toyota Times, cover image via Toyota]