Celebrate Valentine's Day this month with red velvet waffles at Hampton hotels
Love is in the air … or is that just the smell of fresh-made waffles? At Hampton by Hilton, it's actually both. Throughout the month of February, Hampton is adding a very special Valentine's Day treat to its free breakfast lineup: red velvet waffles. And can you imagine anything more romantic than breakfast in a …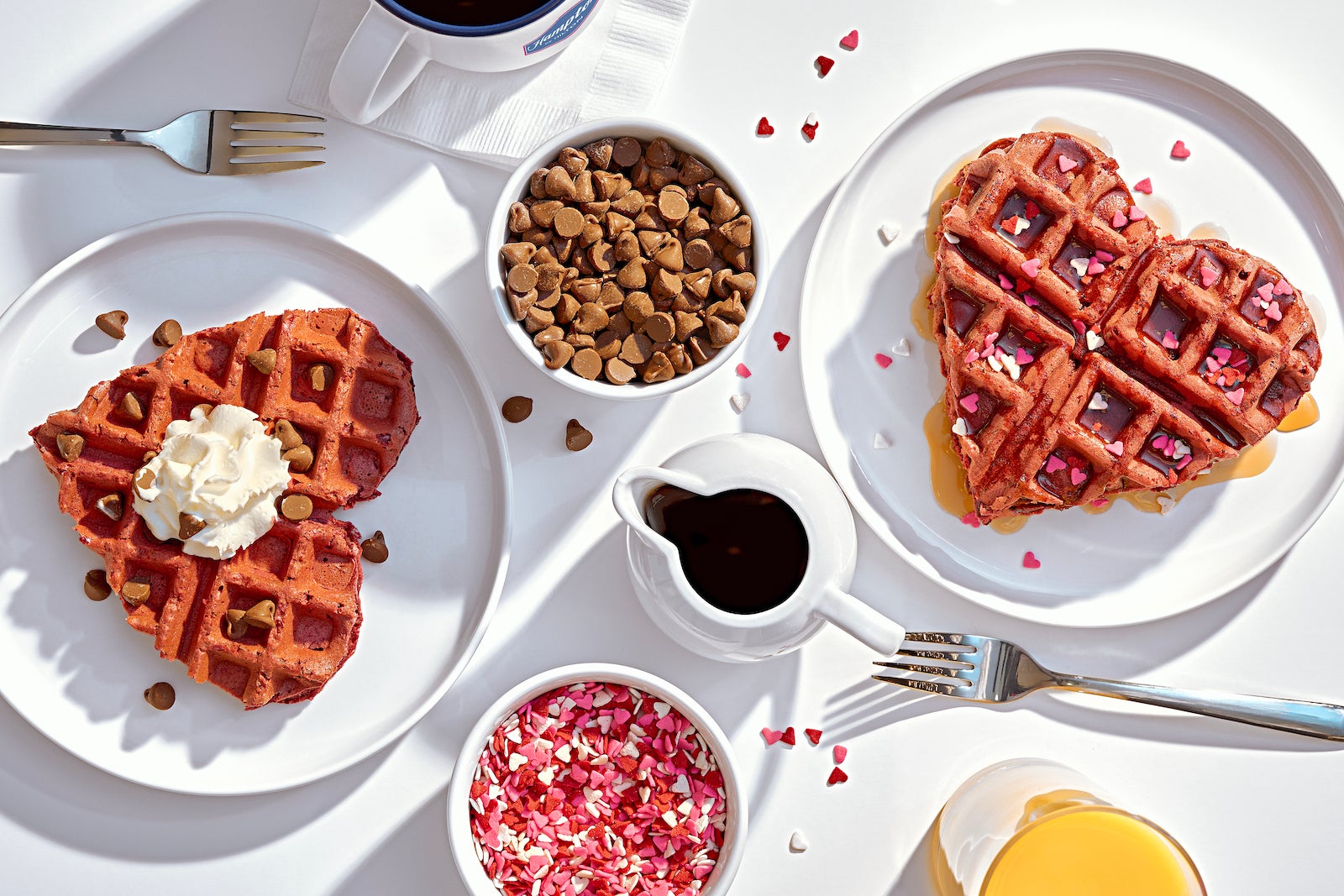 Love is in the air … or is that just the smell of fresh-made waffles? At Hampton by Hilton, it's actually both.
Throughout the month of February, Hampton is adding a very special Valentine's Day treat to its free breakfast lineup: red velvet waffles.
And can you imagine anything more romantic than breakfast in a hotel bed, served on a delicate paper plate, featuring a fluffy, handmade, red velvet waffle, and knowing all of the effort that went into making it?
Picture it: The love of your life pours a hearty (pun intended) amount of red waffle batter into a paper cup; romantically sprays the smoldering waffle iron with a buttery, nonstick solution as gracefully as one would spray a bottle of Le Labo Santal 33; delicately fills the contoured waffle iron full of the thick batter; closes the lid like it's a Cartier ring box; and flips it ever so sweetly.
A three-minute countdown, a beep, and voila! Red velvet love. (Okay, it might not be that romantic, but it's the thought that counts!)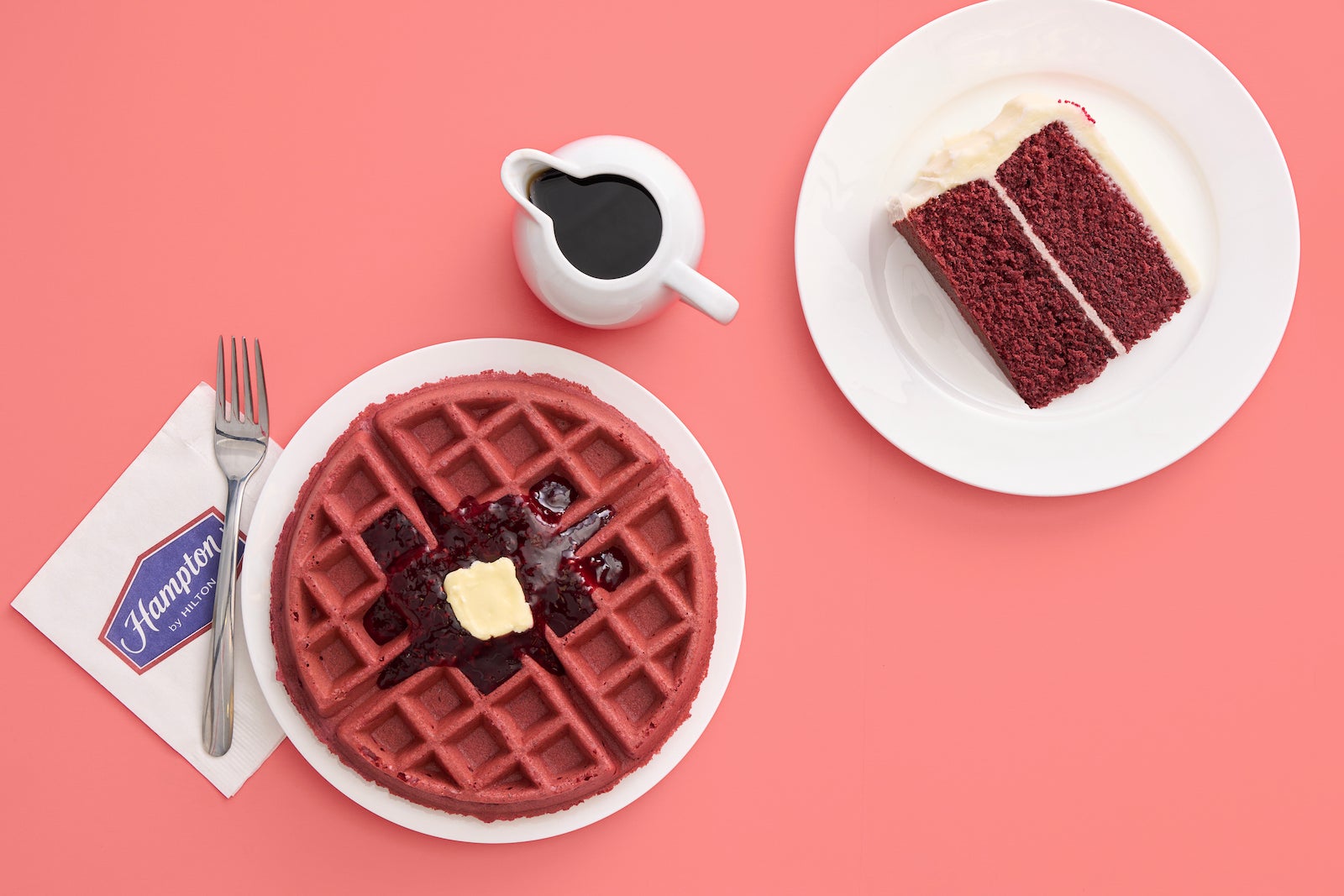 But even if your Hampton breakfast isn't served by a butler on a fancy silver tray a la "Pretty Woman" style at the Four Seasons, you can count on that breakfast to be free. Hampton, with over 2,800 hotels dotting the map, is one of Hilton's brands that offer free breakfast to guests every single day of the year, alongside a handful of other Hilton staples like Tru by Hilton, Homewood Suites by Hilton and Embassy Suites.
For travelers, free breakfast is serious business — and can help save a boatload of money, especially compared with luxury hotels where breakfast can easily cost $30 to $40 per person, if not more. In fact, in a 2022 survey of 2,000 travelers commissioned by Hilton, the company found that free breakfast was the No. 1 amenity people looked for when booking a hotel room.
Related: 5 ways to get your hotel breakfast for free
People love breakfast, but that doesn't mean that waffles are the most-loved breakfast item, however. As we reported last year, Hilton also surveyed travelers and asked if they could only have one breakfast item for the rest of their lives, what it would be? The answer: the waffle's fluffier archenemy, pancakes.
Hilton's red velvet waffles had better watch their back — Hilton's own Tru brand offers machines that automatically make pancakes, almost like magic.
If we want to get down to the real nitty-gritty, Hilton's Embassy Suites brand actually beat out Hampton in the TPG battle of the free breakfast, where we compared the 10 most popular hotel brands offering free breakfast in a syrupy, egg-and-waffle-filled head-to-head showdown. Thanks to its numerous hot breakfast offerings and a made-to-order omelet station, Embassy Suites claimed the crown.
Competition aside, Hampton's red velvet waffles are a sweet treat (literally) for folks who have to spend Cupid's big day on the road. Even better, the waffles can be topped with an assortment of goodies like sprinkles, chocolate chips, whipped cream, berry compote and more. (But as we also learned in the battle of the free breakfast, each hotel has various offerings — Hilton claims the red velvet waffles will be offered at nearly 1,800 properties in the U.S. and Canada).
If you happen to be at a Hampton by Hilton this month and happen upon red velvet love steaming from a waffle iron, share a picture and tag us on Instagram.
And if you don't have a valentine this year, let us be it, and we'll wrap you up in a travel-filled, points-heavy, warm embrace.