Bounce House Rental Tips For An Amazing Party
Here are some helpful bounce house rental tips that you can use to make the most of your next special event. Safety First: Bounce houses are designed for children 5 years and older. Make sure there is adequate and constant adult supervision at all times. Insurance: Check on the company you want to rent a bounce house from. It's important that they carry the proper insurance. Some companies offer a waiver, so make sure you have the right homeowner insurance policy in place. Sanitation: Check with the company that's renting the bounce house. Ensure that there are proper sterilization methods in place between each rental. Size: Confirm the dimensions of the bounce house that you want to rent. They can vary in size and you want to be sure that the one you rent is the right fit. Supervision: We can't say it enough: kids will be kids and they need to be supervised when they are using a bounce house. You can always pay a little bit more to have an on-site operator for added safety of all the children. Add-ons: Some bounce houses might have add-ons; ask your provider because some of these add-ons can add even more fun! Generator: You will need a generator to inflate the bounce house. Most companies will rent you one and the power cable, but you'll need to make sure you have an outlet within 100 feet. Have a blast! Bounce houses are fun for kids 5 and up — and for adults too! Make sure you join in on the fun that the kids are having. You only live once! (Click on the Image For Full View) Source: Flysidegames Bounce Rentals in Austin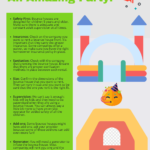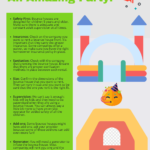 Here are some helpful bounce house rental tips that you can use to make the most of your next special event.
Safety First: Bounce houses are designed for children 5 years and older. Make sure there is adequate and constant adult supervision at all times.
Insurance: Check on the company you want to rent a bounce house from. It's important that they carry the proper insurance. Some companies offer a waiver, so make sure you have the right homeowner insurance policy in place.
Sanitation: Check with the company that's renting the bounce house. Ensure that there are proper sterilization methods in place between each rental.
Size: Confirm the dimensions of the bounce house that you want to rent. They can vary in size and you want to be sure that the one you rent is the right fit.
Supervision: We can't say it enough: kids will be kids and they need to be supervised when they are using a bounce house. You can always pay a little bit more to have an on-site operator for added safety of all the children.
Add-ons: Some bounce houses might have add-ons; ask your provider because some of these add-ons can add even more fun!
Generator: You will need a generator to inflate the bounce house. Most companies will rent you one and the power cable, but you'll need to make sure you have an outlet within 100 feet.
Have a blast! Bounce houses are fun for kids 5 and up — and for adults too! Make sure you join in on the fun that the kids are having. You only live once!
(Click on the Image For Full View)